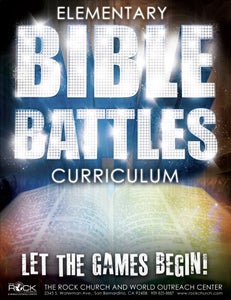 $

20.00
Regarding Digital Products:
After your purchase you will receive an order confirmation email with a link to download your item(s).
---
1. Bible Battles is a game—First and foremost it is a challenging, fun-filled and exciting game. Bible Battles seeks to channel the competitive nature between elementary boys and girls into a constructive game with eternal values.

2. Two Teams—Bible Battles has two teams, the boys compete against the girls in all kinds of activities.

3. Adult Involvement—In Bible Battles, there is one key adult, the head referee, who controls all of the action. There are also coaches for the boys and coaches for the girls. These coaches are evenly distributed between each team and work with the children before service on memory work as well as help them stay excited during the class. This is a great opportunity to involve parents. They may either be involved minimally, as they would by just assisting with the memory work before class, or they may be involved more and assist during the entire session.

4. A Tool—The Bible Battles game is a tool that can be used to help develop the spiritual lives of the children at your church. It will help in the following areas:

a. It will provide children with valuable Biblical instruction for life.
b. It gives them something concrete to achieve in the field of Bible memorization.
c. It provides an exciting desire and motivation to know the Bible through many competitive Bible quiz games and challenges.
d. It assists in establishing relationships between children and parents through the memory work and special weekly home-centered assignments.
e. It can help show kids that church can be fun.
f. It encourages evangelism with the kids inviting others to come to church.


Bible Battles is versatile in its use. Depending upon your children's programming, you can use it as any supplemental services during the year. It is designed to be held weekly during Wednesday or Sunday night services and will last for a total of eight weeks. You can shorten it if desired.